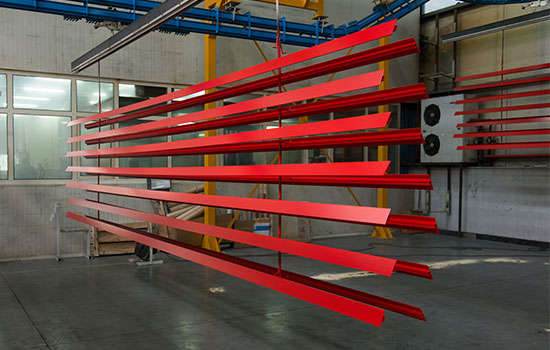 Electrostatic powder coating method is completely dry and solvent free. Electricly charged ground resin is paint particles that form the topcoat layer of paint, which is composed of other raw material and pigment particles. Electrostatic powder coating systems are applied to be in line with Qualicoat standards. We are meeting the highest quality expectations of our customers in the most complete and best way possible with our latest technology by aluminium painting. We are able to offer custom colors in a wide range along with all standard RAL colors by aluminium painting to meet our customers need by working with the industry's leading paint suppliers. Thereby, we can guarantee the highest quality with the control processes being carried out at every stage.
Here you can see at below some of the functions that we can offer with our electrostatic powder coating line recently renewed with the latest technology of aluminium painting
Fully enclosed static powder paint line to prevent surface residues and dust
Dosage unit supporting chrome-free surface pretreatment
Continuous cleaning of carriers
Conveyor speed with the ability of painting up to 4 meters per minute
Paint equipments with high quality
Production line allows for painting up to 8 meters
Computer aided infrared system
Oven system with box type (Power and Free)
Production capacity up to 600 tonnes per month
16 spray guns with photocell control
Powder Coating Process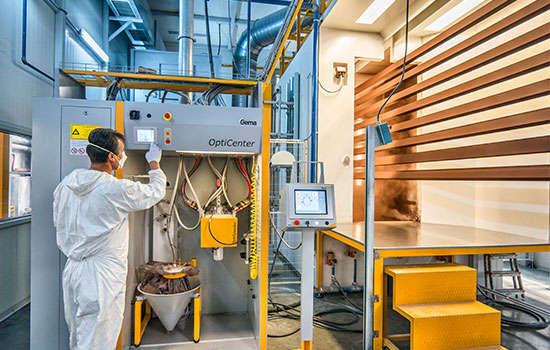 Powder paint is thrown through the paint cabinet via special paint guns during the application of electrostatic powder coating system. Electrostatically charged powder particles adhere to the material to be painted in the cabin by the time of passing through the surface of the gun and then the coating process is completed. The material will be placed into the baking oven upon having coated with powder paint. The heat of 200ºC allows the powder coating to adhere to the material by melting. This process results in highly durable, wide color range and environmentally friendly glossy surface coating at low cost by electrostatic powder painting. Electrostatic powder coating systems are more preferred than traditional painting processes, because of the features like being solvent-free, having high resistance and high surface quality, the ability of paint recovery system, being eco-friendly and economic. Electrostatic powder painting has 3 steps as cleaning and pre-treatment, powder coating and baking. The part to be painted needs to be pre-processed together with the cleaning process in order to get the best result from the dyeing process in the first step of "Cleaning and Preprocessing" at the electrostatic powder painting. Acidic cleaners are also more suitable for inorganic contaminants, while alkaline cleaners give good results for organic contaminants. Paint will be applied right after the cleaning and pre-treatment phase has been carried out at the electrostatic powder painting. This process is done with electrostatic gun. There are two types of gun used, tribo and corona. Paints easily adheres to the material that is electrostatically charged because of the coagulation of the material to be painted. The material is placed into electrostatic powder paint oven as a final step to allow the part to be exposed at a certain temperature for a spefic time. As the electrostatic powder coating oven is heated up to a certain temperature, the paint firstly melts in the first stage, it forms a flat surface and then cures. After this process the painting is completed by removing the material from the oven.