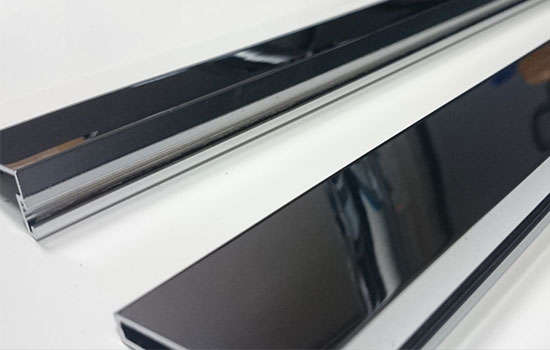 Chrome and nickel coating processes are carried out in Orego Metal with the latest technology. The Chrome and nickel coating with a good interim decorative finish is noticeable with a smooth surface in mirror finish. Nickel, which should be perfect for your base metal polishing, is yellow and coated by our company to meet the needs of the companies. Chrome and nickel coating is especially used in the construction of household appliances and in the decoration of steel parts of automobiles. For all goods exposing to the corrosive environments, chrome and nickel coating is usually applied before chromium coating. In terms of operating conditions, nickel baths are veneer baths with fine details and also, it is more possible to detect any kind of negative effect on the surface of the component. At the same time, there is a negative effect on the surface of all kinds of bugs that may occur during and after chrome and nickel coating which brings many disadvantages and therefore requires serious attention during operation Because Chrome is a very hard metal, it has a high heat resistantance and additionally, it is not exposed to abrasion and air oxidation. Maintain its brightness in all conditions, and most importantly, it comes to the forefront as a coating type which always looks pleasant decoratively. Depending on the requirements of the companies, nickel coating may also be applied with chrome coatings We have been aiming to reflect our firms in the best way that we have acquired for many years in chrome nickel coating. In addition to the fact that we have a wide range of colored coating options with chrome and nickel coating, we are also a pioneer company in chrome and satin coating. We are working with an experienced team to provide you, our customers, with the most perfect support in both nickel and chrome coating. Decorative Chrome and Nickel coating processes have a very wide range of usage in home appliance sectors, electronics, automotive, decorative accessories and furnitures, ornamental items and machine parts, and are implemented by our company.
The use of chrome as a coating has shown a rapid expansion and development in recent years. Chrome and coating process with 3 main usage areas are as follows;
To obtain a blackening and gloss coating on a nickel coating for decorative purposes.
For coating of very hard surfaces such as worn metal surfaces, casting surfaces or metal processing tools.
Mostly used for the surfaces of the engine cylinders which are exposed to abrasion like shaft bearings and inner surfaces and therefore porous and hard structure. In this way, the porous structure allows the oil to stay in the pores and the engine life to be longer.
Decorative Polished Nickel Coating
Suspended Nickel and Electrolytic Bright Cabinet are the two processes that we are using in the decorative polished nickel coating. We apply surface polishing process to find the best finish of the geometric structure of the material and of course to meet with the need of customers. Copper coating can also be applied before coating, if desired.
Advantages of nickel coatings
Homogeneous coating distribution
Having a plump look and feel
Brighter and smoother appearance when polished
Decorative Bright Chrome Plating
Decorative chrome coating is applied on the materials coated with nickel. Optionally, it is also possible to have decorative polished nickel coating in three-tiered by getting copper coated on the metal first, nickel on it, and then chrome coating on the top part.
Advantages of chrome coating
Generally preferred on polished surfaces
Maintains its vitality for many years and does not suffer from corrosion with decorative polished nickel coating
Has a very microporous structure
Whiter and brighter than the nickel
Overlays the properties of the nickel coating found in the bottom cover by decorative polished nickel coating