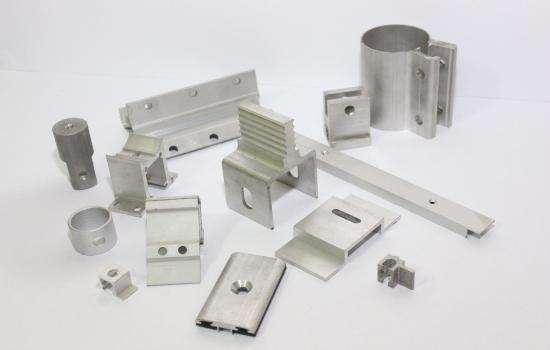 Aluminium punch press machines are equipped to meet all manufacturing needs in the sheet processing industry by having electro-hydraulic punching head with 360 ° rotation capability, CNC control panel and high punching speed with aluminium punching. We, as Orego Metal, can assure you to provide high production quality service with a short processing times in our aluminium punching technology by embracing both innovative and unique technologies. Aluminium profile series are processed with the help of drilling and cutting molds in desired shapes. The axis of the machine constantly turns 360 degrees around the profile by holding itself steady which eliminates the problem may occur during the process because of being long in the aluminium punching. It is possible to customize molds to meet with our customer needs specifically by modifiying the mold systems within the Aluminium Punch Press machines. We also use corner joining and corner pressing machines both for the production of aluminium joinery that includes door, window, window and façade systems and the process of joining of cut-away aluminium profiles' corners smoothly and without having any burrs.
Aluminium Corner Press Machines
Aluminium corner press machines are the most important type of machine during the manufacturing process of door and aluminium joinery windows. Aluminium profiles are turned into doors and windows with the combination of the parts that are passing through the cutting process and sized by aluminium corner press machines. Next-generation machines makes possible to have four-corner or double-corner pressing without an extra need for corner cleaning which ensures smooth and burr-free production. With the corner press machines, it is not only having modification on press knives both in automatically or manually but also finishing the corner picking up 50% faster than similar machines in mass production. In order to run all the process together at once by joining the corners and corner press machine technology, we are injecting epoxy by punching the corners during pressing with the epoxidized models with aluminium corner press machines.