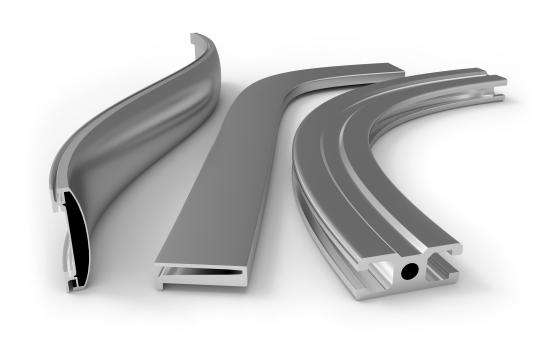 We, as Orego Metal, we offer a unique combination of production features applied to our products and operations in a wide range of variety, including aluminium cutting and bending. Stamping, mitering, drilling, bending, milling and assembly operations are performed by our experienced team with a great precision and accuracy. We are always working to provide the best service to our customers with the production and bending phase, continuous high precision, experienced aluminium technical team, superior customer service, in time delivery and guaranteed quality, just like in all other process stages and aluminium bending. Aluminium bending is one of the most important metal forming operations in many industries. Aluminium bending is the process of changing the directions of the materials to any desired direction, both hot and cold. Aluminium bending is for so different areas that include the automotive, construction and aerospace sectors, pipe bending is the most preferred operation among the others. There are lots of methods can be used for aluminium bending in our world. Different bending methods can be preferred by us by depending on the wall thickness of the pipe or product, the amount of the product, the degree of radius that needs to be curled, the initial investment cost and the need for operator use. We, as Orego metal, are applying aluminium bending work with all kinds of aluminium profile with required tolerances with Cnc twist reels, braided pipe bending machine and 3 ball pipe bending machine.
Bending Machine Properties
The Bending machine in our factory has the ability of bending pipes or products in various sizes and widths easily by having a computer-aided design. In addition to this the bending machine also has the special desgined pipe bending molds of the mains pipe bending machine. There would be the most accurate detection of molds with the help of being computer aided. Errors that may occur in the design can be corrected in the design phase within computer just before the production with the bending machine. Using computer aided production system and bending machine, is not only preventing us from loosing time, labor and material but also providing earning more than it should be.